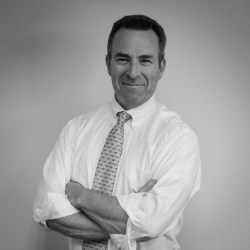 Barry has worked in the IT Professional Services industry for over 25 years. Starting in New York City in the mid 80's with IMI Systems. He vividly remembers buying the company's first PC for the accounting department and reading an article saying that programming was dead as CASE tools would be writing all code by the year 2000. Today it would seem that PCs may be dead in the near future replaced by tablets and Software Engineers are more in demand than ever. So much for industry prognostication.
After Consulting engagements at two major financial institutes and an international cosmetics firm in Manhattan where Barry performed as Developer and Project Manager, he moved into an Account Executive role. Moving to the Washington, DC branch of the company Barry quickly rose from Account Exec to Division Director and eventually Vice President over the DC and Baltimore offices and was involved in a 10x increase in revenues.
After IMI was sold to Adecco in 1997, Barry joined Acuity Technology Services as VP of Sales and COO. Riding the dot com explosion Acuity had significant growth reaching $55M in revenue and a headcount of 450. In 1998 Acuity was sold to Metro Information Services which was in turn sold to Keane as the bottom fell out of the market.
In the summer of 2002 Barry and Alison Banziger began talking about forming a company that would capture the best attributes of the companies they had worked for and in October 2002 xScion Solutions was born.
Since 2002 Alison and Barry have used their deep industry experience, vision and leadership to build xScion into a company with a stellar reputation, strong business ethics and an enviable client base.
Barry leads the sales and operational areas of xScion and while he has not made any predictions about the direction of the industry since 1987 he is confident that the future of xScion is bright.